Internet Marketing Program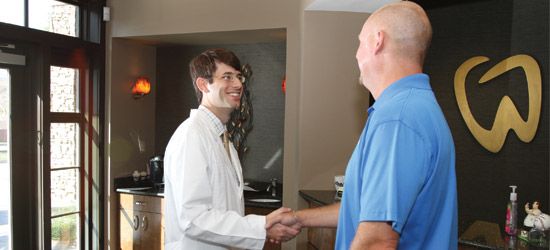 Boost Your New Patients with Our Internet Marketing Program for Dentists
We provide successful Internet Marketing programs for dentists, including:
Custom Websites designed to convert web visitors into your patients
Pay-per-click advertising (the "ads" on the top and right hand side of search engine results)
Google+ Local (formerly Google Places) optimization to tap into people searching for a local dentist
Search engine optimization (various actions taken to have your website come up as high as possible on the search engines)
Social Media such as Facebook, blogs and review sites
Professional videos introducing your practice and patient testimonials
What results can you expect from our Internet Marketing Program?
Our clients routinely double or even triple or more their inflow of patients. Read what our clients themselves say here.
Who can benefit from our Internet Marketing Program?
Dentists with no website need to have an Internet presence as most of their target potential patients use the Internet to find a dentist or to find out more about one that they have heard about.
Many dentists have a website already but are not getting the results they would like. Our Internet Marketing Program routinely gets our clients more new patients than they even thought possible.
Expertise Applied to Internet and Web Marketing
Our Internet Marketing Program was developed based on our expert marketing knowledge, market research and constant testing. We have a large database of what is successful in Internet marketing for dentists, which along with custom market research, we apply when we develop your website and web marketing. We have developed many proprietary procedures and checklists to implement what we know is necessary for Internet marketing to work optimally.
An experienced team that knows what it's doing
Our award-winning Creative Director makes sure your website design is aesthetic and will work well for your practice. Your website is then custom-written by our 17-year veteran healthcare pro copywriter. Our experienced Art Director ensures your website conforms to all the latest standards in web coding and will view in all types of browsers.
Our Internet Marketing Manager ensures that the latest conventions are followed in preparing your site for search engine optimization and that your website is widely visible when people are searching for a dentist or dental procedure in your designated geographic area.
Creating an Internet Marketing Plan
We create a custom Internet marketing plan that will get the best results for the dentist in his particular practice and area, taking into account the budget.
We use various analytic tools to monitor and adjust your Internet marketing, including Google Analytics, other analytic tools and call tracking.
To get any questions answered, to get more information or to get advice on which direction to take with your marketing, click here to schedule a marketing consultation.