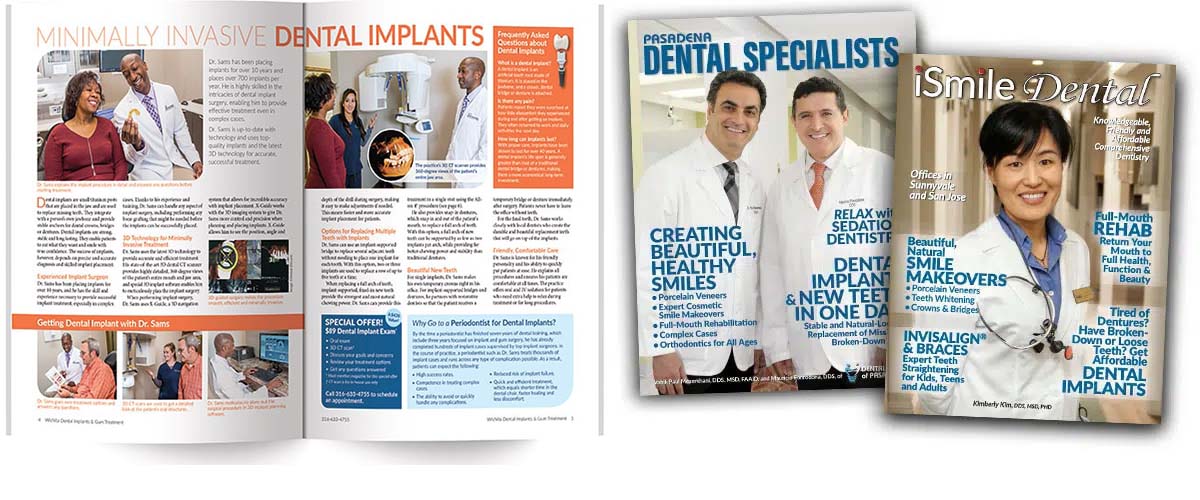 Let your community know the value of seeing a Prosthodontist
Most of the general public haven't heard of prosthodontists, yet if they understood a prosthodontist's value those needing tooth restoration or replacement would be interested in seeing one.

Our marketing is designed to fully showcase the value and benefits of seeing a prosthodontist to treat missing or damaged teeth.
How we market for prosthodontists
We have prosthodontist clients all over the US, in metro areas and small towns. We use either our direct mail premium marketing system for dentists and/or our Custom Magazine Program. We have over a decade of experience marketing specifically for prosthodontists.
Reach your target demographics directly with effective direct mail marketing
Our custom magazine program is especially effective at reaching target audiences for implants, full-arch and full-mouth restoration. Our 12-or16-page custom magazines educate readers on the benefits of doing their dental restoration with a prosthodontist, and doing it with you, at your office. The magazine features you, your office, your major dental services, your technology, patient testimonials and more.
Free Marketing Consultation
We'll evaluate your practice and assess what the best marketing strategy will be for you. We'll answer any of your questions and provide information on what return you could expect from your marketing investment.
The Gilleard Difference
We are experienced in marketing for prosthodontists
We are dedicated to dental marketing and have 15+ years of experience in marketing for dentists and dental specialists. Our first prosthodontist client was in 2012 and we still do his marketing. We have developed systems that work to get our clients the big dental cases they want. We use tracking and analytics to ensure optimum results for each of our clients.
We use proven marketing technology
We are full-service dental marketing company using procedures rooted in the proven best practices of marketing as used by ad agencies and corporations. Just as in dentistry, there is a specific marketing technology. We have taken this technology and streamlined it for our dental marketing. One of the key technologies we use is market research and surveys. With these we can get a direct look into the mind of your target audiences. Our surveys get us "hot buttons"—words or phrases that resonate with target audiences and motivate them to read your marketing and call your practice for an appointment.
Headed by expert marketers
Gilleard Dental Marketing was founded by Keith and Deborah Gilleard. They have decades of experience between them in the technologies of marketing, public relations and market research, marketing for multi-billion-dollar corporations, start-ups and businesses of all sizes and shapes. They have given seminars worldwide on marketing and market research.
In 2007, they formed Gilleard Dental Marketing to bring the proven technologies of marketing to the dental world. Our company has grown yearly since then, and has been included several times on the INC 5000 list of fastest growing companies.
Free Implant Marketing Consultation
We'd like to help you achieve your implant and full-arch new patient goals. Please fill out the form and we'll set up a Free Marketing Consultation to analyze which marketing will work best for your practice. Find out more information and get any questions answered including what return you could expect from your marketing investment.