How to Reach All Your Target Marketing for Dental Implants and Full-Arch
April 22, 2023
by Keith Gilleard
There are different ways to reach your target markets for implants. I was evaluating them for cost and ROI, and came up with this little analysis.
Online via Facebook, Google Ads or search engine optimization (SEO): These are the more workable digital methods. They are also highly competitive. Spend for digital campaigns for dental implants usually starts at $3000 just to get your foot in the door, and that's not including any management fee.

Facebook has become especially popular for marketing implants and full-arch. It has definite pros: you can have large, compelling ads, including video, and you can target implant audiences. After speaking with many dentists about their Facebook campaigns, however, I found that the actual percentage of conversions from the leads from these campaigns is usually very low. Plus the leads require a lot of work to get them into the office.
Radio or TV ads: These can be effective, but also costly, and subject to dwindling audiences. It's too easy to change the channel or just skip the ads altogether.
Direct Mail: This is sometimes considered antiquated and not workable. The actuality is that it can be highly workable, it just depends on the type of direct mail. A big pro for direct mail is that it can go right into the homes of people who are not looking online, yet are prime prospects for implants or full-arch treatment.

Direct mail such as postcards or simple brochures can get general dentistry type patients, but usually rely on discounts and specials. They don't generally work for implants and full-arch cases as they simply don't have the space or authority to get someone interested enough to call the office.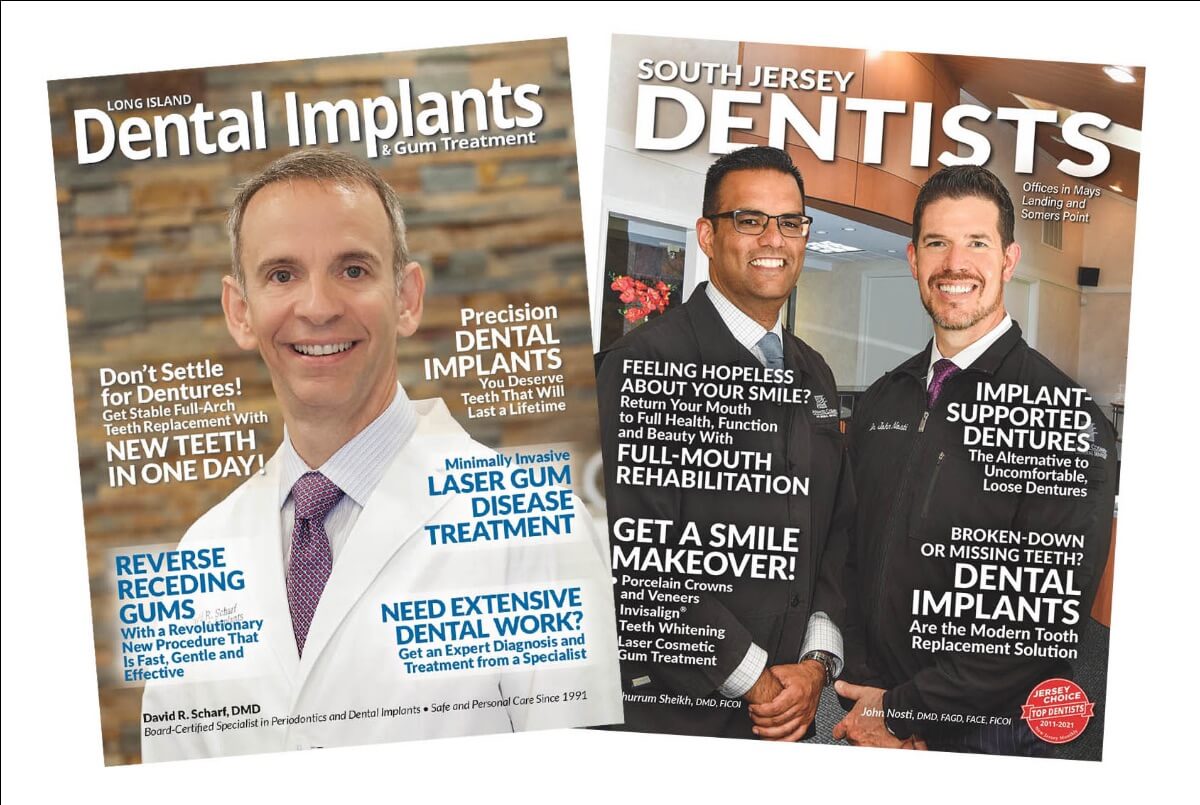 Our unique Custom Magazine Program was developed to reach all your target markets and get them interested and motivated to call your office. In fact, many of our clients say the magazine pre-sells the reader, making it easy to schedule them and get treatment acceptance. After setup costs, it works out cheaper than most digital campaigns, but can get you highly qualified callers.
The magazine is unique in the world of implant marketing, and it's made just for your practice. It can make your practice stand out in your community and help establish it as the place to go for implant and full-arch treatment.
We have helped many dentists and specialists across the US with our custom magazines, and I'd love to be able to help you, too. Give us a call at 855-486-2410 or contact us online to schedule a free marketing consultation.
Success Story — Dr. Martha Sanger, Periodontics & Implant Dentist
"Before we found Gilleard Marketing, we were trying to find patients who could afford to pay for treatment, now after sending out the magazine we've reached the right public who need our services.
"If you need more patients than you know what to do with, use Gilleard Marketing. We're booked out 5 weeks now where before we may have been booked out 2 weeks. We used to spend $2,700 a month on listing services and ad marketing and it was a waste of money. The money we spend with Gilleard gets results. We get bigger cases. What's great about the magazine is the patients that come in are pre-sold on using us. We were out of town and a call came in, we referred them to another doctor and they said they would wait until we got back! Collections are up 30k-90k per month and recently we had the highest ever collections in a month.
"We are buying the building next door to us because we can't service all the patients and we are in the process of hiring another periodontist to help with the load of new patients. You won't be wasting your money with Gilleard."
Dr. Martha Sanger's practice is located in Bakersfield, CA. She has been a client of Gilleard since 2017. Her custom magazine features dental implants, All-on4®, gum disease treatment and gum recession treatment, as well as a full listing of all her services.
Free Marketing Consultation
We'll evaluate your practice and assess what the best marketing strategy will be for you. We'll answer any of your questions and provide information on what return you could expect from your marketing investment.
Keith Gilleard
Keith Gilleard is President of Gilleard Dental Marketing. Gilleard has been providing effective and unique marketing programs for dentists since 2007.